We will help development of private sector by implementing important plan of chain financing of agricultural sector in field of contract farming, governor of central bank said.
Governor of Central Bank announced;
Abandonment of dollar and euro has been one of issues discussed with Russian side, governor of Central Bank of Iran, after negotiations with governor of Russian central bank and some officials, said.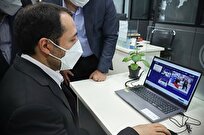 Latest on IBENA;
Visiting of Money and Currency Bazar Institute (MCBI) and IBENA analytical and news site made by Dr. Ali Saleh Abadi, Governor of Central Bank on Wednesday, July 27th, 2022.